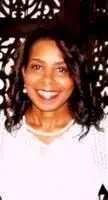 Shelda Abdur-Razzaq obtained a Master of Art Degree in Counseling from North Carolina Central University. A Personal Life Development Coach, Abdur-Razzaq provides one-to-one support and assists in the empowerment of individuals who are looking to improve the quality of their lives. She is a Licensed Professional Counselor and a Licensed Employee Assistance Professional.
Abdur-Razzaq is a private practitioner with over 18 years experience as a clinician specializing in Solution-Focused Therapy, working with a broad spectrum of clients. Among her areas of expertise are issues related to depression, anxiety,grief/loss,relationship issues, cultural issues and women issues. In addition, she also provides crisis counseling, critical incident stress management,diagnostic assessments, substance abuse assessments and clinical supervision.
Abdur-Razzaq is a practical, interactive, solution-focused therapist. Her treatment approach is to provide support and practical feedback to help clients resolve current problems and long-standing patterns. She incorporates a blend of conventional and alternatives approaches, drawing upon a variety of styles and techniques to incorporate what will be most helpful for each client. With sensitivity and compassion, she works with each client to help them build on their strengths to identify and achieve life goals.


" As your Therapist, I will value your individual needs and honor your process toward healing and wholeness".